It has been a wonderful summer at Fabrics Galore & Quilting Store and I hope all of you who are among our quilting community have also enjoyed an equally wonderful summer season as well.
As the summer months segue to another beautiful Fall Season in the North Georgia mountains, we want to keep you in the loop about upcoming events and classes here at Fabrics Galore & Quilting Store in Blairsville, GA.
Mark Your Calendars.
New August / September Quilting Classes
Please mark your calendars to join us at one or all of our upcoming classes and quilting events and plan to check out our newly added Batik and Christmas Collections. Click on the links below to get pre-registered as class sizes are limited.
PLEASE NOTE: We will be CLOSED for Labor Day to give our staff time to enjoy the last vestiges of summer with family and friends. Labor Day is on Monday, September 2, 2019
Upcoming Classes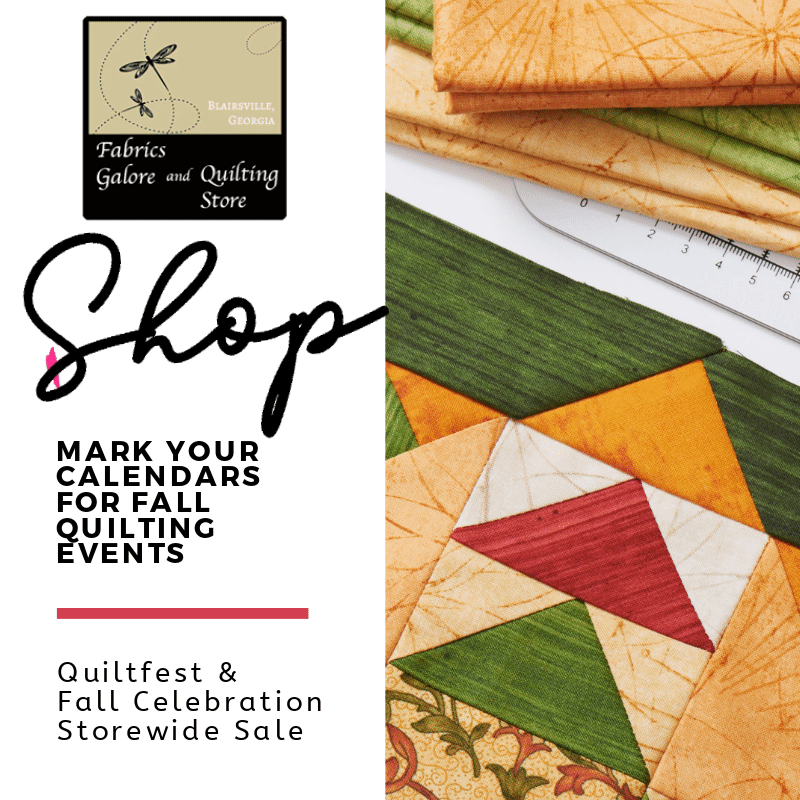 Upcoming Events – Save The Dates
Quiltfest
September 27 & 28, 2019 – Thursday & Friday
Misty Mountain Quilter's Guild Quilt Show
1400 Pat Colwell Rd.
Blairsville, GA
Fall Celebration – Storewide Sale
October 4th & 5th – Friday & Saturday
Fabrics Galore & Quilting Store
19 Cobalt Street, Suite G
Blairsville, GA, 30512
Phone: 706-745-6918
Please give us a call at 706-745-6918 with any questions or comments.
We are an authorized Brother Sews dealer.
Don't forget! We are an authorized Brother Sews dealer and keep a number of the most popular machines in inventory and on display. Give us a call to schedule a DEMO and we'll keep you informed of any special sales by Brother and how to obtain savings for your wallet. There is also financing available to protect your cash flow. Give me a call or if I'm not available, ask for Karen so we can get you fitted out on a new Brother sewing machine, embroidery machine and serge machines.
Thank you so much for your continued business on behalf of Fabrics Galore & Quilting Store, myself and our wonderful staff.
Sincerely,
Patricia Squire
Owner / Operator