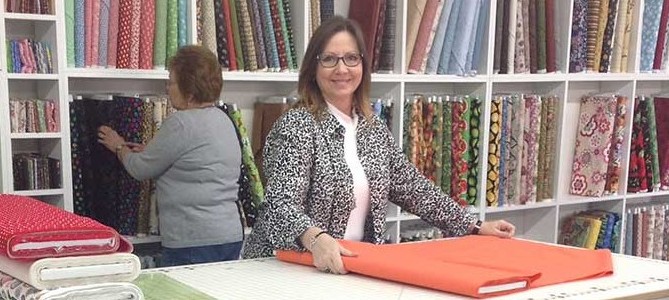 As we blast through the first month of 2015, I'd like to share a few tidbits from our January Grand Opening at Fabrics Galore and Quilting Store.
Our Grand Opening was a success. The weather was perfect. We had a lot of fun and enjoyed a wonderful attendance from the Quilting Communities of the North Georgia area.    A big THANKS goes out to all of our fans and customers for your support and kudos.   We're thrilled to have successfully traversed this big event!
Many of those who attended our Grand Opening celebration enjoyed our refreshments and especially the homemade cookies.   We received many requests for the recipe which we've posted below!
——————————————————
If you would like to print this recipe, scroll to the bottom of this post where you'll see our social media share buttons.   Click on the Green button on the left and then click the Print Friendly button.  You'll be able to scroll over images and click on the "delete" to get rid of the images before you print.  Deleting images will only delete the printable format, not the web page.    Or, you can copy and paste into your own text editor.
PECAN MELTAWAYS
1 CUP BUTTER SOFTENED
½ CUP CONFECTIONERS SUGAR
1 TEASPOON VANILLA EXTRACT
2 ¼ CUPS ALL PURPOSE FLOUR
¼  TEASPOON SALT
¾  CUP CHOPPED PECANS
ADDITIONAL POWDERED SUGAR FOR COATING
In a large bowl, cream the butter and add the Confectioner's sugar.
Add Vanilla until light and fluffy.    In a separate bowl, combine flour and salt;
Gradually add flour mixture to creamed butter and sugar,  and mix well.
Next, stir in pecans. Refrigerate until chilled.
Roll into 1-in. balls and place on ungreased baking sheets.
Bake at 350 for 10-12 minutes or until set.
Roll warm cookies in additional confectioners' sugar;
Cool completely on wire racks. Roll cooled cookies again in confectioners' sugar.
Bake 10 min/batch  yield 4 dozen
Caution: don't handle cookies while hot, as they will crumble.
Wait until just warm to coat with confectioners' sugar.
——————————————————————–
As a reminder, we'll be adding several new classes to our calendar so watch for the updates and if you're subscribed, you'll receive notice of the new classes that we add and a sign up form – since there is limited seating for each class.
More to come!
Sincerely,
Patricia